Recordings to relax the body, quiet the mind, and open the heart
MANTRAS Magical Songs of Power
No one can fully explain the mystery of mantras. Their magical sounds stimulate, activate, motivate, and rejuvenate.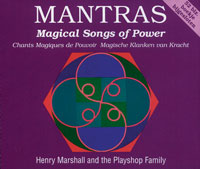 MANTRAS Magical Songs of Power
Henry Marshall and the Playshop Family (1994), Oreade Music

Double CD with xtensive text booklet in many languages.

Click here to download chords and texts for MANTRAS: MAGICAL SONGS OF POWER.
VOLUME A:
JAYA JAYA DEVI MATA (for peace with the mother; for victory to the goddess)


PANDURANGA HARI (for freedom from inhibitions)


RADHA SOAMI DEVA DEVI (to communicate with spirits)


HARI OM SHIVA OM (for radiant masculine consciousness)


OM ASATOMA SADGAMAYA (for truth, light, and immortality)


GOPALA (to heal parent / child relationships)


OM EIM HREEM KLEEM (for wisdom, wealth, and protection)


OM NAMA SHIVA / ADI SHAKTI (to harmonize male / female energy)


VOLUME B:
OM HAM HANUMATE (for healing and strength)


RAGHUPATI RAGHAVA RAJA RAM (for triumph of spirit over ego)


PATNEEM MANORAMAM DEHI (to find a female life-partner)


SAT PATIM DEHI (to find a male life-partner)


YA DEVI SARVA BHUTESHU (to increase intelligence)


OM SRI RAM JAI RAM JAI JAI RAM (for victory to the power of love)


OM SHANTI OM (for peace)


To order from: