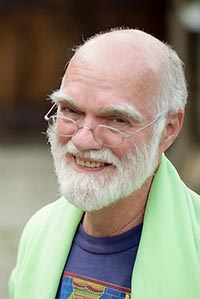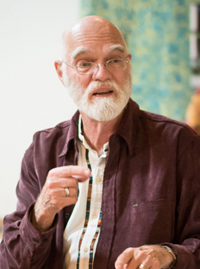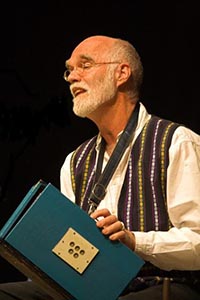 Henry Marshall, PhD
Spreading inner peace, one person at a time.
I am a psychologist, counsellor, and coach in private practice in the center of Amsterdam.
For me it's a calling to empower people to awaken their potential for healing and personal development.
I tailor make sessions to suit the individual using everything from Western evidence-based methods to Eastern healing techniques.
I also offer groups including Playshops, Stillness Retreats, Mantras & More gathering, and Tri-Energetic Trainings.
The guiding vision for all this is Tri-Energetics, a holistic system of self-discovery and and personal development.
I developed it with Rickie Moore, my beloved life partner and colleague, inspiration and friend.
My passion is leading mantra chanting groups. It's a delight to help people sing out these powerful vibrations and go deep into meditative stillness or expressive free dance.
I'm humbled and overjoyed that the mantra CDs I've recorded with the Playshop Family musicians continue to open hearts and calm minds all around the world. It's a dream come true.

Education
1971, B.A. cum laude in English, minor in Religion, U. of the South, Sewanee, Tennessee
1971-72, Post Baccalaureate in Psychology, U. of Houston & Jung Inst., Houston, Texas
1976, Ph.D. in Clinical Psychology, minor in Religion, U. of Tennessee, Knoxville, Tennesse
1976-77, Post Doctoral Fellowship in Clinical Psychology, Texas Research Inst. of Mental Sciences, Houston, Texas

Career
1976 - 86, Clinical Psychologist in Private Practice, Houston, TX. Diagnostics and psychotherapy all ages.
1977 - 79, Assistant Professor, Department of Psychology, Texas Southern University, Houston, TX. Taught and supervised graduate and undergraduate students.
1980 - 83, School Psychologist, Area II Special Education, Houston Independent School District, Houston, TX. Counselled emotionally disturbed students.
1982 - 85, Medical Psychologist with Richard G. Jones, Ph.D. and Associates, Houston, TX. Inpatient and outpatient clinical psychology and behavioral medicine.
1984 - 2013, Co-leader of Playshops throughout Europe, conducting therapeutic groups for all ages.
1988 - 2010, Co-leader and Clinical Director of Tri-Energetic Counsellor Training, providing 360 hour program of theory and personal development, plus supervised practicum.
2005 - 2015, Co-leader and Clinical Director of Tri-Energetic Training, providing theory and development of personal and professional skills.
2009 - 2014, Co-leader of Your Essential Self (Y-E-S) Stillness Retreats, providing practice being at peace in the present moment.
2000 - present, Healthcare Psychology private practice in Amsterdam, the Netherlands, providing psychological services for outpatients.
2016 - present, Leader of joyful and intense therapeutic Tri-Energetic Playshops exploring ways to enjoy life and discover choices.<
2017 - present, Leader of Tri-Energetic Trainings, providing theory and development of personal and professional skills.

Membership
· American Psychological Association, International Affiliate
· Psychologists for Social Responsibility
· Netherlands Institute of Psychologists

Publications
1997, Mantras: Mein Weg zum inneren Frieden. Rheinfelden, CH: Mandala Media
1998, Mantra's: Een muzikale weg tot innerlijke vrede. Katwijk, NL: Panta Rhei
1999, Mantras: A Musical Path to Peace. Woodside, CA, USA: Bluestar
Certification
1977-2021, Psychologist, Texas State Board of Examiners of Psychologists, License #2-1541
1978-2021, Texas Register of Health Service Providers in Psychology
1981-2015, National Register Health Service Psychologist (USA) #21226
1999-2022, Health Care Psychologist, The Netherlands, BIG-register #19051371625
2000-present, Psychologist NIP, Netherlands Institute of Psychologists
2003-present, Chamber of Commerce Amsterdam #66940591