.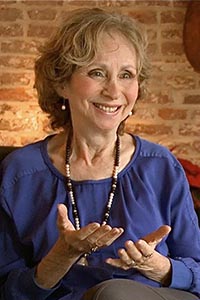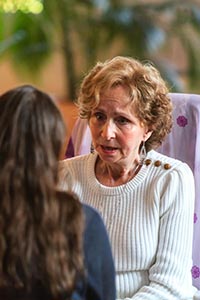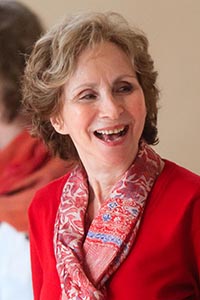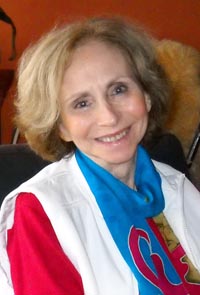 Rickie Moore, PhD
1937 - 2016
A continuing inspiration
The marvelous spirit we know as "Rickie" expressed passionate loving compassion in many different roles throughout her life.
She was acclaimed as a group leader, therapist, teacher, song writer, and author. She was deeply loved as a devoted mother, engaged grandmother, passionate partner, and steadfast friend.
Her unquenchable spirit transformed everyone she touched. She empowered people to be ferociously open-hearted. She relentlessly championed the right of individuals to live fully, including the right to choose how their lives end. She used intuition, humor, and love to help clients, family, and friends to get more out of life. She loved people, life, teaching, match-making... and she was good at it!
In the early 1980s, after earning a PhD in counselling psychology, Rickie began leading therapeutic groups in Europe. She called them Playshops. She and her devoted partner Henry Marshall, PhD settled in Amsterdam. They loved, worked, and created as a powerful team for thirty-four years. During this time Rickie led hundreds of groups, composed teaching songs, recorded CDs, and authored numerous books. She founded and developed Tri-Energetics (TE), an integral system for satisfying needs, simplifying wants, and clarifying intentions. She trained hundreds of students to use TE to live more satisfying lives and to serve as counsellors, coaches, and trainers. She delighted in the vibrant, diverse TE Community that developed to carry on the principles she practiced and taught: "Know what you need, say what you want, have clear intentions. Be flexible, compassionate, and curious."
Rickie wrote passionately about living fully and choosing a beautiful death. She considered it a basic human right to "leave" on one's own terms and to have the support of loved ones and health care professionals. When her physical condition began dramatic decline, she requested euthanasia and called her family to be with her. Well before the protocol could be completed, she developed pneumonia... and she embraced it. She said her good-byes and began palliative sedation. In a matter of hours, she let go her worn-out body... at home in the arms of her beloved.
She did it right… all the way into the light.
Sail on, silver girl!
Staying Alive - Audio with Rickie
Song "I can live in Peace" - Song from the CD "Relax into Now"
Song "Here and Now" - Song from the CD "Relax into Now"
About Teaching Songs - Audio with Rickie
Education
1976, B.A. in Communication, Antioch University, Ann Arbor, Michigan
1978, M.A. in Counselling Psychology, Fielding Institute, Santa Barbara, California
1981, Ph.D. in Counselling Psychology, Fielding Institute, Santa Barbara, California

Career
1979 - 81, Staff Psychologist, Genesis Alcohol and Drug Rehabilitation Program, Bellaire General Hospital, Houston, Texas. Individual and group psychotherapy.
1982 - 85, Counselling Psychology Private Practice in Houston, Texas, providing counselling, psychotherapy, and bio-energetic therapy to outpatients.
1982 - 2004, Leader of Playshops throughout Europe. Conducting therapeutic play groups for all ages.
1984 - 2004, Consultant with surgeons and family practitioners in NL-Oostzaan regarding use of Bio-Energetics and Tri-Energetics with their patients.
1988 - 2010, Leader and Executive Director of Tri-Energetic Counsellor Training, providing 360 hour program of theory and personal development, plus supervised practicum.
2000 - 2016, Counselling Psychology private practice in Amsterdam, the Netherlands, providing psychological health care for outpatients.
2005 - 2008, Leader and Executive Director of Tri-Energetic Training, providing 240 hour program of theory and personal development.
2005 - 2013, Leader of joyful and intense therapeutic Weekend Playshops exploring ways to enjoy life and discover choices.
2009 - 2014, Leader of Your Essential Self (Y-E-S) Stillness Retreats, providing practice being at peace in the present moment.
2015, Leader of Tri-Energetic Associate Training, providing brief intense training in TE theory and practices.
Membership
· American Psychological Association, International Affiliate
· Psychologists for Social Responsibility
· Netherlands Institute of Psychologists
Publications
1982, "Lieben und Freiwerden," Esotera, #8/1982
1988, A Goddess in My Shoes. Atlanta: Humanics
1988, Die Göttin in dir. Freiburg: Bauer
1990, Make the Circle Bigger. Atlanta: Humanics
1988, Een godin in mijn schoenen. Deventer: Ankh-Hermes
1990, Macht den Kreis grösser. Freiburg: Bauer
1990, Maak de kring groter. Deventer: Ankh-Hermes
1991, Agrandemos el circulo. S.A. de C.V.: Selector
1998, Die Kraft in Dir. Rheinfelden CH: Mandala
1999, Tri-Energetica. Blaricum NL: Andromeda
2000, De Playshop. Prague: Roiva
Certifications
1983-2016, Texas State Board of Examiners of Professional Counselors, License # 07640
1999-2016, Health Care Psychologist, The Netherlands, BIG-register 99050891325
2000-2016, Psychologist NIP, Netherlands Institute of Psychologists