Tri-Energetic Master Class & Conference for TE Graduates 4-8 November 2020 Hofheim (D)
TE Training Graduates... you are warmly invited!
Info & registration at http://tri-energetics.com/events/

******* TE MASTER CLASS *******
Dates: 4 November at 4 pm, until 5 November at 1 pm.
Theme: "Teaching Tri-Energetics."
Presenters: Henry Marshall and Sander van Hesteren.
A stimulating, fun 8-hour continuing education opportunity.
******* TE CONFERENCE *******
Dates: 6 Novemmber at ~6:30 pm, until 8 November at ~12:00.
Reconnect with friends and like-minded people.
Share fun, love, laughter, healing and homecoming.
Enjoy creative workshops and an inspring guest speaker: Otto Richter
Not a TE Training Graduate... are you curious to learn more?
Contact Henry Marshall inpeace@inpeacenet.com
We invite people into TE Associate Training who are
* grounded in love and have an open heart,
* well known to our community of TE Trainers,
* experienced in personal work in TE-based groups,
* well experienced in personal work & personal develpment.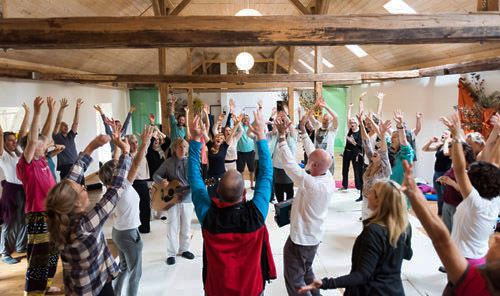 Gesänge der Kraft
12 March 2021
Küssaberg-Kadelburg bei Waldshut Tiengen (D)
Come Together Songfestival
3 - 6 June 2021
Bad Belzig bei Berlin (D)
Tri-Energetic Playshop
18-22 August 2021
Weitra im Waldviertel (A)
Planning your summer holidays?

Want a transforming, inspiring adventure?

Want to take home inner peace?

Then join us for a TE Playshop!
Start the day in silence with yoga and a meditative mantra.
Embrace and explore beautiful nature in the Austrian countryside.
Connect authentically with others, sing, dance, and express yourself.
Share your truth in a safe, accepting circle and individual counselling sessions.
Relax deeply and renew your body, mind-emotions, and spirit.
Experience the practical magic of Tri - Energetics (TE).
Join us for this powerful and fun experience.
Enjoy being who you really are.
Tri-Energetic Playshops are based on three convictions:
* we all want inner peace,
* we all have something we want to change or accept,
* all these things are easier to achieve in a loving supportive environment.
Playshops are a residential group experiences designed to give participants a new lease on life through a unique mix of psychological interventions, yoga, shamanistic ceremonies, music, and mantra chanting.
For over thirty years, Playshops were led by Rickie Moore, PhD and Henry Marshall, PhD and inspired newcomers to personal development as well as seasoned professionals to experience laughter that is as a healing as tears.
Today, Henry and his team carry on Playshops, offering personal work that is playful.
When: 18 - 22 August 2021 (Wednesday 17:00 - Sunday 11:00)
Led by: Henry Marshall with Sonja Rauschütz and Michael Schönen
Location: Seminarzentrum Rosenhof www.seminar-rosenhof.at
Großwolfgers 43 * 3970 Weitra im Waldviertel * Austria
Costs per person for the 4-day group: Tuition is € 480
Single, double & triple rooms with full board --- 2021 Rates To Be Announced
Questions or Comments: info@inpeacenet.com
Registration for the Playshop: Personal Registration
To register and bill through your business: Business Registration
Room reservation and accommodations:
office@seminar-rosenhof.at :: cell +43 664 419 7138 :: tel +43 2856 3795

Make your own arrangements for your room with Rosemarie and her teram.
Delicious healthy vegetarian food is provided. If you have special needs,
please communicate directly with the Rosenhof team. They really do their best.
Shuttle services are available upon request.

Contact person: Michael Schönen mw.schoenen@yahoo.de (+43 650 942 3010)


Download Info in English
*
Download Info auf Deutsch
Join Us! Register NOW!
#TE4 connection